Tracey Woodford death trial: Killer cut up body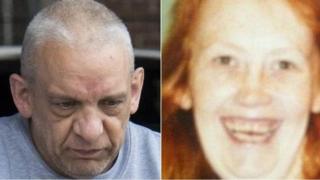 A former butcher who killed and dismembered a woman has told a court he cut up and hid her body because he feared being arrested.
Christopher May, 50, denies murder at Cardiff Crown Court.
Tracey Woodford, 47, was discovered at his flat in Pontypridd, Rhondda Cynon Taff, in April.
Mr May told the court he has "normal sexual desires" and does not get sexual gratification from violence.
He said Ms Woodford arrived at the Skinny Dog pub in Pontypridd and joined a conversation he was having with friends.
He became attracted to her and she agreed to come back to his flat for sex, he said.
He told how Ms Woodford initiated sex, they undressed each other and had sex in his living room before he "lost interest".
He said he fell asleep and woke to find her looking in his wallet. An argument broke out and she threw the wallet at him, he told the court.
"I lost control then - I don't remember, the next thing I knew she was dead", he said.
He added: "I was in a panic. If I get arrested because I killed her... I decided to get rid of the body and cut her up and hide her".
He said he had never had non-consensual sex.
He admitted regularly drinking at the Skinny Dog pub and said he consumed up to eight pints at a time.
The jury was told he had a number of previous convictions for burglary, theft, arson and drink-driving.