Tracey Woodford's killer 'showed slaughtering skills'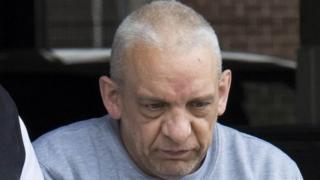 A pathologist thought the remains of a woman killed in Pontypridd had been cut up by someone with "slaughtering" experience, a court has heard.
Tracey Woodford, 47, was found dismembered in the Rhondda Cynon Taff town in April.
Christopher May, 50, denies murder, at Cardiff Crown Court.
Dr Derek James said the remains made him think the perpetrator had "experience in the use of knives and cutting up bodies".
He said: "I thought someone would need knowledge or experience of disarticulating humans or animals.
"I thought probably the person had some experience of slaughtering."
The court has heard Mr May had cut and boned animal carcasses while previously working in a butcher's shop.
Mr May admits causing Ms Woodford's death in his Andrew's Court flat, after they met at the town's Skinny Dog pub on 21 April.
However, he claims he acted in self-defence and lost control during a row between the pair.
Prosecutors have "utterly rejected" suggestions the pair had consensual sex, saying the killing was triggered by a "perverted sexual desire that manifested itself violently".
Dr James went to Mr May's flat after police discovered some of her body parts in the shower cubicle on 24 April, three days after she went missing.
He said he noticed the smell of "decomposition" and "bleach" on his arrival.
'Well preserved'
The forensic pathologist said the catalogue of injuries on Ms Woodford's remains suggested signs of a violent struggle.
He said it was possible they were a result of blows, of trying to fend off blows and from being gripped.
The court has heard Ms Woodford's missing severed head was found on a ledge in an "underground chamber" in a storm drain, near Pontypridd RFC, on 25 April.
Dr James said the head had been "well preserved" and he found seven bruises to her face.
Referring to bleeding around Ms Woodford's eyes, he said this was a sign of strangulation.
The trial continues.