Euro Quality Coatings workers 'made paedophile, gay and racist jokes'
Updated on 25 July 2016. Fifteen of the claims against Euro Quality Coatings Ltd were dismissed and one was withdrawn before the hearing began. None of the claims against individual employees were upheld. One of the 17 claims was upheld - that swastikas were drawn on the walls of the men's toilets and the company failed to remove them without delay.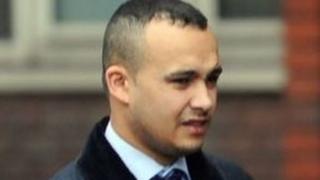 Workers at a Cardiff factory made racist and homophobic comments, and joked about paedophiles, an employment tribunal has heard.
Employee Nathan Owens also alleges swastikas were drawn on toilet cubicle walls at Euro Quality Coatings Ltd.
The Cardiff hearing was told one worker was called "Eddie" because he looked like Hollywood actor Eddie Murphy.
Head of human resources at the factory Julie Hunter said it was "banter" but "nothing malicious".
Ms Hunter said the company "absolutely" took allegations of racism seriously.
But when managing director Steve Rosher was asked if banter could go too far, he replied: "I don't think banter can go too far, by its definition it is something you cannot take too far."
Another worker, Lee Hardy, told the hearing paedophile jokes were made because "Jimmy Savile was in court".
He added: "It was the general topic of the day in the newspapers and on social media, so everyone was talking about it at the time."
He also denied calling a colleague an "IRA terrorist".
The hearing continues.