Tracey Woodford murder trial: Severed head hidden in drain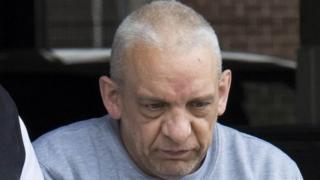 An ex-butcher carried the severed head of a woman he had killed through Pontypridd and hid it in an underground chamber, a murder trial has heard.
The discovery was made after the dismembered remains of Tracey Woodford, 47, were found at a flat in the Rhondda Cynon Taff town in April.
Prosecutors said the killing was motivated by a "perverted sexual desire".
Christopher May, 50, denies murder at Cardiff Crown Court.
A police officer told a jury on Wednesday that he "could not believe" his eyes after discovering the remains of Ms Woodford in Mr May's bathroom.
Sgt Stuart Williams said: "I was very shocked.
"I did not believe what I saw. I described it as if someone had cut up a mannequin and placed them in the shower tray."
'Horror movie'
Fellow officer, PC Craig Gardiner, broke down while giving evidence about the moment a shower curtain was pulled back to reveal the crime scene.
"I thought my eyes were deceiving me and I was watching some sort of horror movie," he said in a written statement.
An expert said the way the body had been dismembered showed whoever had done it had some "skill and knowledge".
Prosecutor Roger Thomas QC said: "It seems that his expertise in butcher shops has been put to use on a human body."
The grim discoveries were made after Ms Woodford had been missing for three days.
She was last seen leaving the Skinny Dog pub in the town with Mr May, heading in the general direction of his home in the Graig area of the town on 21 April.
The accused later told police he had hidden some of her remains in a storm drain, where her head was found on 25 April.
"One has to consider what this involved," Mr Thomas told the jury.
"The defendant carrying a body part and the head from his flat, across part of Pontypridd, entering a dark tunnel and walking into it for 138m (453ft).
"You may want to ask: What was going on in this man's mind?"
The prosecution said the accused claimed he had consensual sex with Ms Woodford, but a row erupted when he found her going through his wallet.
He has insisted the killing was self-defence and he lost control during the row.
As he sobered up he was "physically sick" several times, and "everything felt unreal" as he transferred body parts from his flat over the following days, said the prosecutor.
"We submit this was a deliberate murder, inflamed by sexual passion, and it was a deliberate and callous act thereafter to dismember her, conceal her and dispose of her and that, ultimately, you are presented with a worked-out defence," added Mr Thomas.
The trial is continuing.