Gay inmates at Parc Prison contribute to new book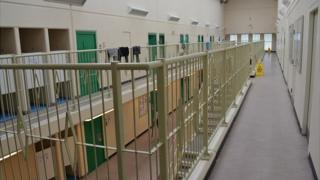 Gay staff and inmates at a prison in Bridgend county have shared their experiences for a new book.
Phil Forder came out to staff and prisoners at Parc Prison five years ago and has compiled Inside Out.
He believes persuading gay staff to contribute was key to getting inmates to open up.
"The more staff and prisoners can understand each other the better the odds are of being able to successfully rehabilitate people," he said.
Mr Forder, Parc Prison's arts intervention and community inclusion manager, has run an LGBT support group at the G4S-managed prison for more than two years.
"If we're asking them to share their feelings and fears then it was only fair that we did the same," he said.
"The group were asked to write their accounts in private, in their cells or at home. Nobody was obliged to share their work, but everyone wanted to, and when they read them out loud you could feel the trust growing in the group.
"After that, collecting the experiences in a book so they could help even more people seemed the next logical step."
Mr Forder hopes it will give gay people the confidence to speak up and challenge homophobic attitudes within the system.
Inside Out is officially launched this weekend at Cardiff's Pride Cymru festival.