Hospital medication error for Kathleen Neville, 93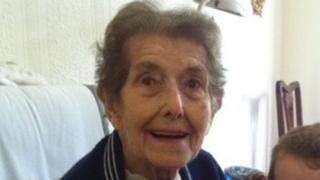 A hospital patient was deprived of her daily thyroid medication for five weeks following an administrative error, an inquest in Cardiff has heard.
Kathleen Neville, 93, of Cardiff, died of pneumonia in March 2014 after developing complications following hip surgery.
The coroner said the drugs error did not cause or contribute to her death.
But he called on the health minister to ensure health boards follow guidelines for medicine management.
The inquest heard Mrs Neville was admitted to the city's University Hospital of Wales in November 2013 after she fractured a hip in a fall.
She underwent surgery but developed a number of complications, including sepsis and organ failure and was also found to have a brain tumour.
The hearing was told she had taken medication for 10 years to treat an underactive thyroid, and despite it being detailed on her admission forms, the prescription was not added to her drugs chart.
'Gross error'
The mistake was rectified in January and the discovery led to the realisation the hospital was not following best practice guidelines to ensure safe medicine management issued by the National Institute for Health and Care Excellence (Nice).
Christopher Woolley, assistant coroner for Cardiff and the Vale, said the failure to give Mrs Neville her required medication amounted to a "gross error".
But while its omission would have exacerbated her condition, he said it did not cause or contribute to her death.
He said he would contact Health Minister Mark Drakeford to recommend all health boards implement the Nice guidelines.
Cardiff and Vale University Health Board said it had undertaken significant improvement work.
After the hearing, Mrs Neville's son Bernard said the family was disappointed with the inquest findings but he said he was reassured the coroner's recommendation would help to protect other patients.
The heath board said it conducted an internal investigation, and extended its sympathy to Mrs Neville's family.