Online 'dater' defrauded women of £250,000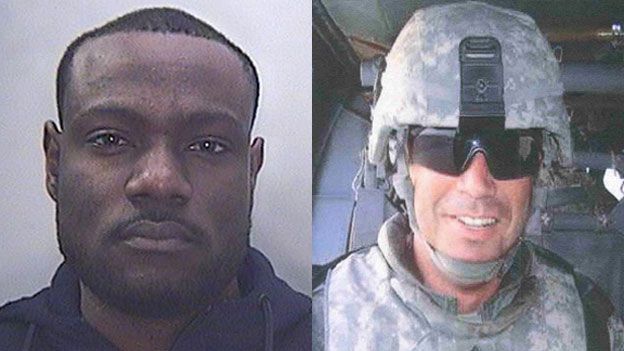 A man claiming to be an American soldier needing money to arrange leave from serving in Afghanistan has been jailed for defrauding two women of more than £250,000.
Tosin Femi Olasemo, 37, of Cardiff, used a picture of a uniformed soldier as his profile photo on the dating site match.com, Cardiff Crown Court heard.
He was sentenced to four-and-a-half years in prison after previously pleading guilty to fraud.
He showed no compassion, police said.
Victims said they felt they had been brainwashed by him.
The court heard he had tried to take over £400,000 from lonely women using the alias Captain Morgan Travis, but banks stopped some payments going through.
The Nigerian student's main victim was 47-year-old Danish widow whom Olasemo contacted within seven days of her joining the dating site.
Using a picture with the name Travis embroidered on a military jacket, they began a relationship, including having conversations over internet messaging sites, although Olasemo told her he could not use the video due to security risks in Afghanistan, which she accepted.
Prosecutor Ruth Smith said Olasemo told the woman he could get leave to come and see her but she would have to pay administration fees which she would get back.
Olasemo emailed her pretending to be a Colonel Bill Watson from the US army, requesting money for the fees.
She sent payments of nearly £40,000 before being told "Travis" had been arrested for money laundering. She sent a further £211,000 before the bank stopped payments of £40,000 and £150,000 being made and contacted police.
The court heard even though the woman discovered Olasemo's real identity she continued to have an online relationship with him and give him money after he told her he had committed fraud because he owed Nigerian militants money and had received death threats.
It only ended when another woman contacted her claiming to be Olasemo's wife.
A second Danish victim handed over £1,100 before becoming suspicious.
'Destroy another person's life'
Police in Cardiff arrested Olasemo and found evidence of conversations with numerous other women as well as several false Nigerian passports and driving licences.
The US Army was unable to find any evidence of a serving solider with the name used by Olasemo, South Wales Police said.
Det Sgt Jamie Holcombe from the force's Economic Crime Unit said the case was an example of how an individual could "sit in front of a computer and destroy another person's life."
He added: "Olasemo took advantage of his victims' vulnerabilities and showed no compassion for their significant losses."