Stranger's surprise £4k to buy dog for autistic boy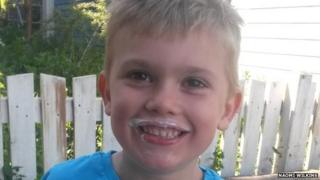 A woman from Torfaen said she was "gobsmacked" after a stranger donated £4,000 online to help buy her autistic son an assistance dog.
Naomi Haine Wilkins, 36, from Cwmbran, is hoping to raise £6,000 to train the dog for five-year-old Greyson, who was diagnosed when he was three.
Ms Wilkins has sent messages to thank the woman but has not received a reply.
She hopes a dog will be a companion for Greyson and reduce his anxiety.
Ms Wilkins said it began with a generous £50 donation from the stranger, and emailed her to say thank you.
"I have no idea who this woman is," she said.
"I asked her if there was any chance she could send me her address so I could send a little something to say thank you, with Greyson's hand print, something personal."
The woman did not respond, but the following day donated £4,000 with the message: "Go get your dog little man love to you and bless you
'Disbelief'
Ms Wilkins said: "Things like this don't happen to me of all people.
"I thought maybe it was an error, that she'd added an extra zero by mistake. I couldn't believe it, absolutely gobsmacked.
"She still hasn't replied to me so I guess the lady in question doesn't want a thank you or anything in return."
Ms Wilkins can now afford to put down a deposit for the dog.
She said: "He loves animals and he says he can't wait to play and dance with his dog.
"He has no perception of any dangers. He'll walk into ponds or in front of cars and a dog will be trained to guide him and respond to key words. It will also take some of the focus off me."