Velothon Wales admits error over claim it had MPs' backing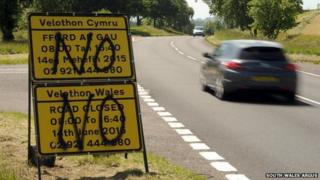 An organiser of a major bike race has taken the blame for the confusion over who had been consulted about the route.
Monmouth MP David Davies said Velothon Wales lied when, he claims, it told him MPs backed the event.
About 15,000 cyclists will join in Sunday's race through Newport, Torfaen, Monmouthshire, Cardiff and Caerphilly.
Organiser Andy Taylor said: "The person who spoke to David [Davies] got their wires crossed and thought we'd spoken to MPs. That isn't the case."
He added: "We do accept responsibility for that specific error with regards to that conversation with the MP David Davies."
Velothon Wales said its team did "their best" to give "clear information" and "never intended to mislead anyone".
'Arrogance'
Mr Davies launched the stinging attack during BBC Radio Wales' Jason Mohammad programme on Wednesday.
"The arrogance of this organisation - they're telling lies to people," he said.
"They told me that all MPs support it, and that was a lie, they back-tracked when they found out that I was an MP."
Some roads will be shut for the race and infuriated residents say they will be trapped indoors all day, and some business owners say they will lose thousands of pounds.
Mr Taylor said the consultation process had been going on for about a year: "We've been working with the local authorities to try and put together a race route which affects as little people as possible.
"In most circumstances people can get out and find alternative routes."