Swarm of bees forces temporary closure of Cardiff beer garden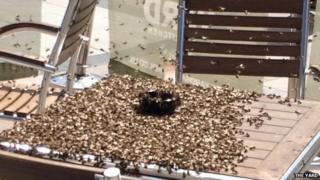 A Cardiff city centre bar was forced to close its beer garden for several hours on Monday after "thousands" of bees "descended from nowhere".
Customers at The Yard on St Mary Street were ushered inside and a sign was put up that read: "Please use side entrance. Bee Aware!"
A beekeeper was called who was able to coax the queen bee into a hive, and eventually the others followed.
Pub manager John Muldoon said nobody was stung during the incident.
He said: "This swarm of bees descended from nowhere. There were thousands and thousands and thousands of bees.
"I managed to get hold of the beekeeper and he was happy enough to come down and spend a few hours here.
"Everybody who was inside had a front row seat as they could watch the exhibition."