City road closures for Cardiff's weekend of music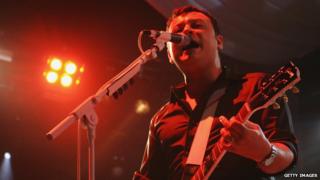 About 120,000 music fans are due in Cardiff this weekend, meaning the city centre being will be partially closed to traffic.
As part of the BBC's UK-wide Music Day, Manic Street Preachers headline at Cardiff Castle while events take place around the city.
Boy band One Direction are also playing two nights at Millennium Stadium.
Travel advice has been issued by Cardiff council.
Full details of events taking place in Cardiff as part of BBC Music Day can be found here.
Manic Street Preachers will play Cardiff Castle for the first time in the evening and the first part of their set will be every song from their acclaimed album The Holy Bible.
Released in 1994, the album has a poignant resonance with fans as it was the last time guitarist and lyricist Richey Edwards performed with the band.
Edwards disappeared in 1995 after battling eating disorders, alcoholism and depression.
Although his body was never found, he was declared legally dead in 2008.
Merthyr band Pretty Vicious are supporting the Manics.