Over 100 attend Dave Green's funeral after Michael Sheen's help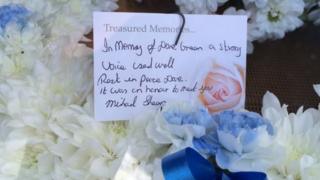 More than 100 people have attended the funeral of a penniless campaigner who was spared a pauper's burial thanks to Hollywood star Michael Sheen.
Sheen, born in Newport, partly paid for the funeral of Dave Green and sent flowers for the hearse.
He met the anti-opencast mine activist while filming a BBC Wales documentary.
Following Mr Green's death, Sheen started a campaign that raised £4,500 to pay for the funeral in Pontlottyn, Caerphilly.
Mr Green, who died of lung cancer aged 74, featured in Valleys Rebellion which marked the 175th anniversary of the Chartist march for political reform.
During the funeral at Elim Community Church in Pontlottyn, Pastor John Roberts described him as "a colourful character", who had vanished from the community for two years.
The congregation also heard it had been his lifelong ambition to be famous, and now he had achieved it.
£4,500 raised
Sheen, who did not attend the funeral, wrote in a card it was "my honour" to help Mr Green.
More than £4,500 has been raised so far and money left over will go into a trust fund in Mr Green's name which will donate grants to applicants to prevent other pauper's funerals.