170 more offered blood tests in Newport piercing alert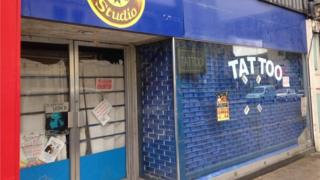 A further 170 people who used a tattoo and piercing parlour at the centre of a health scare in Newport are being invited to have precautionary tests.
Letters were sent to 550 customers after five who had piercings all suffered serious skin infections.
The studio traded as Blue Voodoo, Sun Tattoo Studio and Flesh Wound at two premises at Commercial Street, Newport, between May 2013 and January 2015.
About 400 people had blood tests last weekend, health officials said.
The connection was spotted by a junior doctor who treated four of them.
The additional former clients have been identified following further checks by Aneurin Bevan University Health Board.
Legislation
Dr Gillian Richardson, director of public health for the health board, told BBC Radio Wales that nine people received hospital treatment after contracting infections.
One woman is being treated by a breast surgeon and another person spent three weeks in hospital.
The youngest person tested after receiving a piercing was a three-year-old.
Dr Richardson said legislation was needed to regulate tattoo and piercing shops, although a new public health bill will help.
Anyone who has not received a letter, but who was a customer, can call health officials for advice and to arrange a test on 029 2040 2528.