Finance technology firm Ideoba goes out of business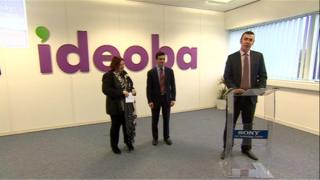 A high tech firm backed by the Welsh government has gone out of business.
Ideoba was run by the former Plaid Cymru MP Adam Price and an American financial services expert Andrew Auerbach.
It employed 10 well paid, highly skilled workers near Bridgend and received funding from the Welsh government.
The company will close immediately after being unable to secure further investment.
Ideoba specialised in financial services with the aim of creating website search engines, giving investment organisations access to advice from 300 million experts across the world.
Last year at its official opening, Mr Price said Wales was "moving from coal mining to data mining."
Ground-breaking
It is believed it struggled from not being located in a central financial hub and will not operate from Wales in future.
It appears relations between the company and the Welsh government may have been strained at times.
The Welsh government has made attracting financial and professional services companies, and the high paid jobs they bring, a key target to help grow the economy.
Private investment and public money has already been spent by Ideoba.
There had been plans to employ 100 when fully operational.
The issue with these ground-breaking tech companies is that they cost a lot of money to get up and running and there is a high risk that they may never really get off the ground.
High risk
For investors in these start-ups, where most fail you can still make your fortune from the successful ones.
What happened here is that Welsh government money was invested and the owners invested heavily themselves.
But the company failed to attract bigger investors they needed to build on the initial research and development phase.
Although always a high risk for the Welsh government, it could have put Wales on the map.
The Welsh government would not disclose how much public money was involved or even confirm the company has gone out of business.
Speaking to business people and economists on Wednesday there were those who said that public money should not be used in high-risk ventures like this.
Others told me this was exactly where ministers should be investing; big, ambitious projects that might have a long-term impact on the economy.
But that involves having a conversation with taxpayers about just how much risk we are prepared to take.