Flat Holm island partnership set up by Cardiff council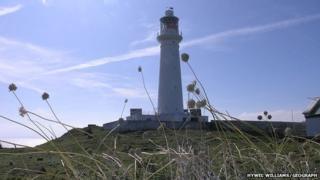 Public access to an island off the south Wales coast will be guaranteed under a new partnership being set up by the local council responsible.
Flat Holm - a Site of Special Scientific Interest - was earmarked for possible sale by Cardiff council in 2013 to help balance the books.
The idea was shelved while the council sought partners to help run the island.
The RSPB will lease it for 30 years with support from the National Trust and the Flat Holm Society.
Cellan Michael, south Wales area manager for the RSPB, said Flat Holm was "a wonderful jewel of an island" and that all the organisations involved would aim to find a "sustainable long-term future" for it.
Rare plants
Cardiff's cabinet member for environment, Bob Derbyshire, said: "The island will benefit from the wealth of knowledge and experience of two of the largest and most experienced heritage and conservation organisations in the UK alongside the in-depth local knowledge of the Flat Holm Society.''
The island, where inventor Guglielmo Marconi sent his first wireless message across water from there in 1897, is protected for its maritime grassland and rare plants such as rock sea-lavender and wild leek.