Sameena Imam: Allotment body inquiry continues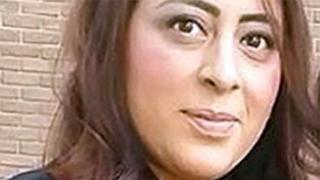 Police are still awaiting the outcome of a post mortem examination on a body found at an allotment in the investigation into the suspected murder of a missing Cardiff woman.
Sameena Imam, 34, was last seen in Coventry on Christmas Eve and two brothers are charged with her murder.
The body was found on Friday off Groby Road, Leicester.
West Midlands Police said the post-mortem examination continued on Sunday to establish the cause of death.
No formal identification has yet been made, but Ms Imam's family have been informed of the latest developments.
Roger Cooper, 40, of Coventry, and David Cooper, 38, of Leicester, appeared via videolink at Birmingham Crown Court on Tuesday charged with her murder.
They have been remanded in custody with a provisional trial date set for the end of June.
Ms Imam was last seen outside wholesaler Costco in Coventry at about 16:00 GMT on 24 December.
She was visiting the store as part of her job as a regional marketing manager for Costco.