Joanne Mjadzelics: Jury sent home in Lostprophets' ex trial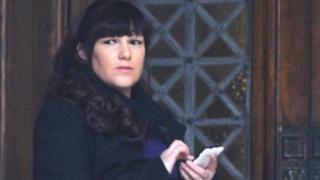 A jury in the trial of an ex-lover of Lostprophets singer Ian Watkins, who is accused of child sex abuse image offences, has been sent home for the night.
Joanne Mjadzelics, 39, claims she was trying to bring the paedophile singer to justice by exchanging explicit pictures and conversations with him.
The defence told her trial she had stumbled into "the sickest of worlds, women abusing their own children".
She denies seven charges.
In closing speeches after a week-long trial, prosecuting barrister Jim Davis told the jury Watkins, who was sentenced to 29 years in jail in 2013 for the attempted rape of a baby and other child sex abuse crimes, had had "what some might think was it all".
He said it was easy to understand why the defendant had been attracted to him.
Mr Davis said Watkins had talked in 2007 about having sex with younger girls and Ms Mjadzelics had said she was confused about whether he was telling the truth or not.
He questioned why, if she was concerned about Watkins' behaviour, she had done nothing about a photograph sent to her in December 2007.
He told Cardiff Crown Court she was totally in love with him, and prepared to indulge his appetite for talking about abusing children as she was besotted by him.
He said the real answer lay in the conversations between them, where Watkins had told her "no one understands me like you do - nightmare that you are".
A sex video showed to the court from 2007 showed "awful shocking detail - the level to which she takes depravity is surely what Watkins meant when he said he couldn't get it from anyone else".
Mr Davies said it was only later that she threatened to go to police who decided the evidence did not pass the threshold for further investigation, adding: "It would have been astonishing if they had come to any other decision."
He said the case hinged on events in 2011 when the pair were back in touch and whether it was a "new Joanne Mjadzelics" or the pair picking up where they had left off.
He called the daily conversations they had over 10 months "an astonishing performance just to trap him".
"If she was trying to get evidence, by May she had it. Two photographs from him on her phone - him admitting having raped a child - if she had walked into any police station, something would have been done right then - her excuses are pretty lame," said Mr Davis.
Mr Davies argued the defendant only contacted the chief constable of South Wales Police because she and Watkins had argued.
Defence barrister Michael Wolkind QC said it was "four years too late" when police roused themselves and investigated Ian Watkins.
Police had passed "prejudiced lie-filled memos from force to force" about her mental health", adding: "What seemed to matter was that she was a prostitute and that he was from a famous band."
He reminded the jury that the police initially wrote that "there is no evidence of a criminal offence, just allegations from a disgruntled ex-partner... any investigation would involve huge publicity".
He told the jury: "You are not here to judge her behaviour but to see if she carried out criminal acts. Her dirty sex life you may shudder at - but she didn't commit the crimes she is accused of.
"She smiled for the camera - an experienced prostitute, getting into someone's head - performing a script for a master manipulator."
Ms Mjadzelics denies four charges of possessing indecent images of children, two charges of distributing images and a charge of encouraging and assisting the distribution of an indecent image of a child.