Image of Jesus 'captured in photograph of cloud'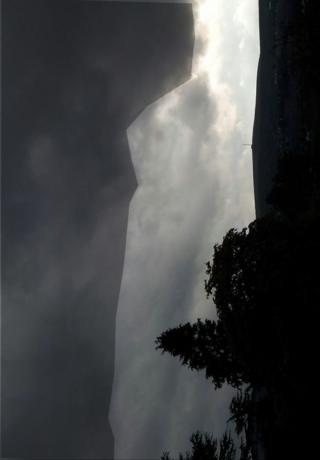 It is a phenomenon called simulacrum, where religious images are believed to be seen in the natural world.
And Roger Jones, 67, a retired TV rental manager, believes he was a witness to exactly that in Merthyr Tydfil's Cyfarthfa Park.
Mr Jones says the image of Jesus he saw in cloud formation is a "sign of hope" for the world.
He explained that he took the picture after praying and meditating for 30 minutes in the town's park.
Lionel Fanthorpe, a retired Cardiff reverend, president of the Association for the Scientific Study of Anomalous Phenomena and former presenter of Channel 4's Fortean TV, explained seeing images in clouds in not uncommon.
'Lots of incidents'
"There have been very many cases of witnesses feeling they can see some shapes or images in clouds," he said.
"It's like the ink block test psychologists use when they ask patients to say what they can see in images.
"Of course there is nothing there, but people are seeing whatever their mind in focussed on.
"There are a lot of incidents with clouds, I don't think it has any meaning."