Joanne Mjadzelics shared child abuse images with Ian Watkins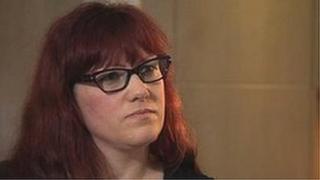 A woman has gone on trial accused of encouraging rock singer Ian Watkins to distribute indecent images of children.
Joanne Mjadzelics, 39, from Doncaster, is accused of possessing and distributing indecent images.
She claimed she encouraged the Lostprophets singer - serving 35 years for child sex offences - to send the images in order to expose his criminality, Cardiff Crown Court heard.
She denies seven charges in relation to images.
Ms Mjadzelics was arrested following Watkins' guilty pleas in November 2013.
Sex tape
The jury heard excerpts from a sex tape from 2008 where Watkins and Ms Mjadzelics, who had a relationship, discussed their desire to abuse very young children together.
The video was entitled "Jo paedo talk Cardiff" and prosecutor Jim Davies told the jury the pair discussed their desire to abuse children.
They also heard Ms Mjadzelics had said in the video she wanted to kidnap and rape children.
The prosecution then read out parts of an online conversation in 2011 where Watkins posted indecent images of child abuse, and Ms Mjadzelics' explicit responses.
During the conversation, she said: "I want everything we ever talked about," the court heard.
In a later online exchange, Ms Mjadzelics asked: "Can I please have some pics Daddy?" and asked for pictures of child sex abuse to be sent to her.
The jury heard the defendant admitted having indecent images in her possession but claimed she had a legitimate reason for having them as she was trying to bring Watkins to justice.
In police interviews, the court heard, Ms Mjadzelics blamed her drug use for conversations she had with Watkins.
"I cannot deny that it's me but I cannot remember it and I am just disgusted," she said.
"I was a coke head at the time."
The defendant added: "I was totally in love with the guy and I was saying things to... make him excited."
She denies four counts of possessing and two of distributing indecent images of children and one count of encouraging and assisting the distribution of an indecent image of a child.
The trial continues.