Cardiff council bans use of sky lanterns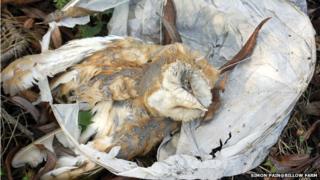 Cardiff council has become the sixth in Wales to ban the release of sky lanterns and large bunches of balloons from its buildings, venues and events.
The RSPCA welcomed the news but said it wanted an outright ban imposed.
In October 2013 the Welsh government called on councils to make a stand, stopping short of an outright ban.
Other groups, including farmers' leaders, have also called for a ban, saying they pose a risk to wildlife and the environment.
"While we accept the popularity of mass balloon releases for charity and Chinese sky lanterns as it can be a striking sight, people have to realise that what goes up must come down," said councillor Bob Derbyshire, Cardiff council's cabinet member for environment.
"We are increasingly concerned that livestock and wildlife are swallowing or becoming entangled in a lantern's wire or bamboo frame."
Other councils banning the use of the lanterns are Caerphilly, Carmarthenshire, Conwy, Neath Port Talbot and Pembrokeshire.