Sammy Almahri: International hunt after Nadine Aburas's hotel murder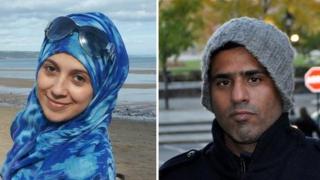 An international manhunt is continuing for a man police in south Wales believe murdered a Cardiff woman whose body was found in a hotel on New Year's Eve.
Sammy Almahri, 44, from New York, met Nadine Aburas at the Future Inn in Cardiff Bay on 30 December, four days after flying to the UK from the USA.
He left the country on 31 December and is believed to be in Tanzania.
South Wales Police are working with counterparts in New York and Tanzania to try to trace Mr Almahri.
An Interpol wanted notice giving details of Mr Almahri has been posted.
At a press conference on Sunday, police said the pair had known each other for three years and were believed to have met up during that time in New York city.
They both checked into the Future Inn within 30 minutes of each other on 30 December and left the hotel shortly before 22:00 GMT before returning at 23:00.
Five hours later, Mr Almahri left and is believed to have booked and boarded a flight at 10:00 GMT from Heathrow to Doha in Qatar and then flown on to Tanzania.
Ms Aburas's body was found in a hotel room at midday on New Year's Eve.
Police have said Mr Almahri is dangerous and have advised anyone who sees him not to approach him but to report it to the relevant authorities.