Police probe online meet before Cardiff hotel murder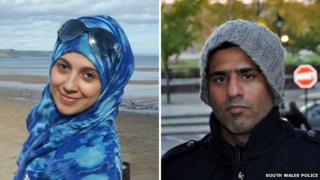 Police hunting a murder suspect who they believe killed a woman at a Cardiff hotel before fleeing to Africa are looking into whether the pair met online.
Sammy Almahri, 44, a US national living in New York City, flew to the UK and met Nadine Aburas, from Cardiff, at the Future Inn hotel on 30 December.
Less than 24 hours later, staff at the hotel found Ms Aburas's body.
Police believe Mr Almahri is now in Tanzania, east Africa.
Det Supt Paul Hurley said officers know that Mr Almahri and Ms Aburas had known each other for three years and believe during that time they had met up in New York.
But they are trying to establish how they met, including whether it was online.
Officers are now trying to determine the nature of the pair's relationship.
The force said Mr Almahri flew to the UK on Boxing Day and travelled to Cardiff to meet Ms Aburas, a student who lived in Cardiff Bay.
They both checked into the hotel on Hemingway Road within about 30 minutes of each other on the evening of 30 December.
They are known to have left the hotel in the Cardiff Bay area at 21:50 GMT and returned at 23:00.
About five hours later, Mr Almahri left and is believed to have boarded a flight at 10:30 from Heathrow to to Doha in Qatar via Bahrain and from there travelled to Tanzania.
Mr Hurley said the force believe the suspect booked his flight out of the UK on the morning that he fled Cardiff.
Ms Aburas's body was found in a hotel room at midday on New Year's Eve.
Police are now trying to piece together what happened when Mr Almahri arrived in Cardiff and find out more about his background.
They do not know if Mr Almahri had a job.
Mr Hurley said: "From our enquiries we have discovered that Almahri is very resourceful and has access to funds, which may further assist his evasion from law enforcement agencies."
He added that he considered him to be "dangerous" and he had injuries to his face from a previous incident.
Mr Hurley urged anybody who might have seen the pair in Cardiff Bay or has more information to contact police.