Welsh-medium plan for Newport's Duffryn High School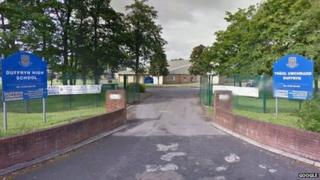 A Newport school could be divided up to accommodate a new Welsh-medium secondary school.
Duffryn High School pupils would move from the site's existing three blocks into two, creating room for a 900-pupil Welsh-medium in the remaining building.
The proposals also involve extending parts of the school buildings.
If plans are approved, the school could be ready by September 2016 to help tackle a shortfall in Welsh-medium secondary school places.
There would be a total of 2,100 pupils on-site once both schools are full.
The Welsh-medium school would have a catchment area of Newport, Monmouthshire and southern parts of the former Gwent council area.
It would only take 100 pupils in its first academic year.
If passed, Newport and Monmouthshire councils and the Welsh government will jointly fund the £17m plans.
Newport currently has no Welsh-medium secondary school and the closest ones are Ysgol Gyfun Gwynllyw in Torfaen and Ysgol Gyfun Cwm Rhymni in Caerphilly.
Councillors in Newport will discuss the plans on Monday.