'Violated' Newport couple write to Christmas burglars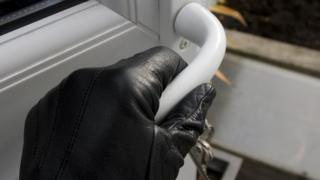 A couple who were left "violated and shell-shocked" after Christmas presents were stolen from their home have written an open letter to the burglars.
Steph and Eric Baker left their Newport home for an hour and returned to find "lovingly-wrapped" gifts and thousands of pounds worth of valuables gone.
Mrs Baker said in the letter, published in a newspaper, that she has an "empty gut-wrenching feeling" when she thinks about the 18 December burglary.
But she vowed to "rise up triumphant".
Unable to sleep after the theft, which happened after the couple left their home at about 20:00 GMT, Mrs Baker, 64, wrote the letter, which has been published in the South Wales Argus.
The retired nurse wrote: "People like you are sick, inadequate, cold individuals who get off by boasting about the misery and devastation you cause to decent, loving, hard-working people like us.
'Get caught'
She went on: "You won't care that we and our family and friends are left feeling empty, numb, violated and totally shell-shocked after you came to ours to do your Christmas shopping.
"You won't give a toss that we're not eating, sleeping and nervous about leaving the house.
"You certainly won't even consider the fact that we've worked all our lives and been honest, reliable, kind and caring members of the human race.
"We will recover from this. We will rise up triumphant."
And she concluded: "One last thing, you will all eventually get caught and get your punishment because you will get too cocky and go a step too far."
Gwent Police confirmed it is investigating the burglary.
Anyone with information is asked to call the force on 101 quoting 421 18/12/14.