Kitten freed after builders bricked it inside a wall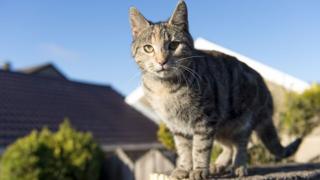 A pet kitten was bricked inside a wall for 14 hours in a mistake by builders.
Four-month-old brown tabby Molly crawled inside a hole at her family's home in Rhymney, south Wales, as council workmen carried out repairs.
When they left, Molly was nowhere to be seen, although her owner could hear her crying all night.
Owner Ceri Thomas finally realised her cat's howls of distress came from inside the cavity wall which had been bricked up.
She called 999 and firemen supervised the builders when they returned the next day to free the kitten from the cavity by taking the wall apart.
Mrs Thomas, who has nine cats, said: "I'm furious with the council and the builders - this situation could have easily happened to a child.
"Molly was very frightened and dehydrated when she came out."
The building work is part of a £4 million project where internal and external improvements are being made to buildings and homes in the area.
A spokeswoman for Caerphilly council said: "Our workmen were there on that day.
"There is a lot of building activity there now and the cat entered a cavity and was then stuck.
"They had to take great care to release the cat. It was unharmed and not distressed but they managed to get it out safe and sound."