Royal Mint makes £100 coin featuring Big Ben clock tower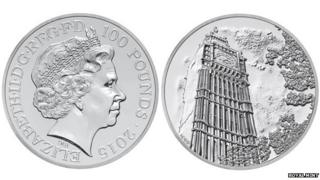 A new £100 coin featuring London's Elizabeth Tower which houses Big Ben has been minted to mark the start of the new year.
The Royal Mint in Llantrisant, Rhondda Cynon Taf, has produced 50,000 of the commemorative pieces.
The coins, which contain two troy ounces (62.8 grams) of silver, will be available at the face value of £100.
The design was chosen in celebration of Big Ben's distinctive sound, which for many cues the start of the new year.
The coin is expected to prove popular following the sell-out success of the first £20 coin struck in honour of the birth of Prince George.
The design shows the clock tower from street level from the view of a person gazing up towards the sky.
Shane Bissett, the Royal Mint's director of commemorative coin, bullion and medals, said: "The sound of Big Ben chiming in the Elizabeth Tower is one that will have become synonymous with Britain for millions of British citizens and tourists alike, particularly on New Year's Eve when the world listens for Big Ben, which marks Greenwich Mean Time, to chime in the New Year.
"So it is a fitting choice for the nation's first £100 coin, and this is a fitting time for us to reveal it."
While the coins are legal tender, they will not be in general circulation and have been designed as collector items.
Big Ben is believed to have been named after the former Monmouth MP and peer Sir Benjamin Hall, who later became Lord Llanover.
He oversaw the rebuilding of the Houses of Parliament, including the installation of the new clock tower bell.