Campaigners say Severn tolls among 'world's most expensive'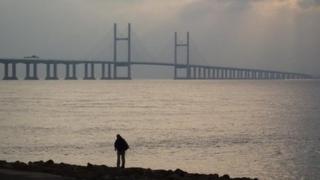 Campaigners have claimed the Severn crossings are among the most expensive stretches of toll roads in the world.
It comes as a new charge hike comes into force on New Year's Day, taking the cost of crossing into Wales up 10p to £6.50 for cars.
The Campaign Against Severn Tolls (CAST) said the increase makes the toll one of the most expensive per kilometre and is hindering economic growth.
The Department of Transport refused to comment on the claim.
"Tolls for the Severn Bridge rise in line with inflation every year and are strictly regulated by the Severn Bridges Act 1992," he added.
CAST organiser councillor John Warman said: "The new year Severn toll bridge increases make it one of the most expensive bridge crossings in the world per mile.
"Because of these tolls new business opportunities to invest in Wales could be lost, and it will stunt the growth to the economy in our country.
"They will also be a bitter blow to the haulage and tourism industry."
Mr Warman claimed the toll was a "tax" on Wales' businesses.
Bridge owners Severn River Crossing PLC said it increases the cost every January in line with the Retail Price Index.
They have been contacted for a comment.
Toll rises from 1 January
Cars £6.50
Small goods vehicles and small buses face a 30p rise to £13.10
Heavy goods vehicles and buses will pay £19.60, up from £19.20