Concerns for mother and baby seen in Bridgend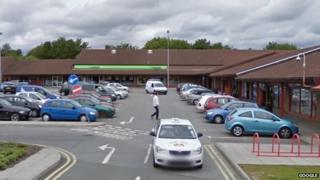 Police are trying to find a woman and a baby after members of the public raised concerns about their safety.
The woman, who has blonde hair tied back in a ponytail, was seen with the infant just after 20:30 GMT on Sunday outside the Co-operative supermarket, The Triangle, Brackla Way, Bridgend.
She was wearing a dressing gown, three-quarter length leggings and trainers.
Insp Gary Smart said: "We believe neither mother or baby were dressed for the conditions."
Insp Smart said that although no missing person report has been filed, South Wales Police want to find the woman and baby to make sure they are safe.