Kidney deaths inquest: Patients told donor had meningitis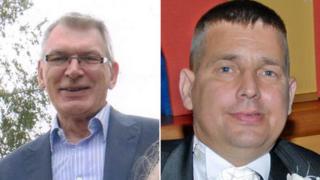 Two men who died after kidney transplants were told before their operations that the donor had died of meningitis, an inquest has heard.
Usman Khalid from Cardiff's University Hospital of Wales said both had had the opportunity to refuse the operations.
Robert "Jim" Stuart and Darren Hughes were given kidneys infected with meningitis-causing parasitic worms.
Mr Stuart's widow Judith challenged Mr Khalid's evidence from the courtroom floor, asking him to "tell the truth".
The inquest also heard no case of infection by the worm had ever been successfully diagnosed and treated.
The cause of the meningitis, which also killed the donor, was not known before the transplants took place and was only diagnosed after post-mortem examinations on Mr Stuart and Mr Hughes.
Mr Khalid said he had explained to the men that the risk of transmitting meningitis via transplants was low.
He told the inquest: "An opportunity is given to every patient to decline any surgical procedure. It's not forced upon them."
Mr Khalid, a clinical research fellow at the hospital, said he went through the consent procedure with Mr Stuart, 67, of Cardiff, whom he called an intelligent man with a good grasp of the process.
He also said consultant transplant surgeon Argiris Asderakis had told Mr Stuart the donor had received a five-day course of antibiotics prior to his death and there had been a detailed discussion about the risks.
Consent form
The court heard that the risk of meningitis transmission was explained to 42-year-old Mr Hughes, from Bridgend, as being low.
"He [Darren] had full capacity and he understood those risks" said Mr Khalid. "I helped to sit him up to sign that form and I remember it."
He contradicted evidence from Mr Hughes's father Ian, who had previously told the inquest he had signed the consent form on his son's behalf as Mr Hughes's neurological condition prevented him from doing it himself.
Mr Khalid said: "Darren did sign the form; he did struggle. There's no issue in surgery if a patient can't sign; for example, we often get patients who are partially-sighted or blind."
'Full capacity'
He told the inquest that if Mr Hughes could not have signed the form, he would have asked a witness to sign on his behalf.
Mr Khalid said Mr Hughes had also signed a consent form for his research study the following day, and he did not recall his father being there at that time.
When family members of Mr Hughes were handed copies of the form in the public gallery, they said: "That's not his signature".
Halicephalobus parasite
The parasitic worm halicephalobus lives in soil, manure and compost
It infects animals and humans, but this is still incredibly rare
There have been only a handful of cases in humans since the infection was first described in 1954 by a researcher called Stefanski
It is unclear how the worm gets into the body - it could be by ingestion of its eggs or it entering through a break in the skin
Once inside, it can multiply and invade tissues such as the brain and kidneys
Doctors diagnose it by looking at tissue samples, but since it is so rare it is not something that will be top of their check list
The problem may only become apparent after a post-mortem examination
After finishing his evidence, Mr Khalid addressed the public gallery filled with relatives of the two men.
He said: "I'm really terribly sorry for your loss."
Mr Stuart's widow Judith replied: "Well, tell the truth, then."
Brendon Healy, a consultant in microbiology and infectious diseases for Public Health Wales, said everything had been done to save the men.
"There haven't been any human survivors of this infection. It's unreasonable to think we could have arrived at the diagnosis," he told the inquest.
He explained the focus of their attention when trying to diagnose the men was on the site of the infection, the brain, as the kidneys were working.
"We failed, while they were alive, to make a diagnosis," Mr Healy said.
He told the families: "I'm really sorry for what happened. We did our best, and I'm sorry."
First UK case
Both transplants took place at the University Hospital of Wales in November 2013.
After surgery both men's conditions deteriorated. They lost consciousness and died just over two weeks later.
Post mortem examinations revealed both men had the deadly parasitic worm halicephalobus in their bodies after the transplant.
Hearings last month were told that doctors knew the alcoholic donor of the kidneys had died from meningitis.
This was the first known case of human-to-human infection and the first case in the UK, the inquest at Cardiff Coroner's Court previously told.