Plan to dig out and re-open Wales' longest railway tunnel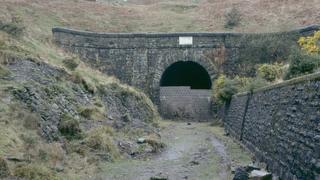 The longest railway tunnel in Wales could be dug out and re-opened to become a tourist attraction.
The Blaencwm tunnel was buried during the Beeching cutbacks of the UK railway network in the 1960s which led to the closure of thousands of train stations.
Volunteers are now drawing up plans to try to re-open the 3,300 yards (3017m) tunnel in Rhondda Cynon Taf.
They hope to receive funding to excavate the tunnel to attract tourists and create a cycle trail.