Greenmeadow Community Farm donkey deliberately injured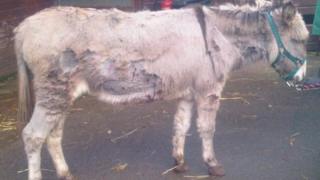 Police are appealing for information after a donkey was deliberately injured at a community farm in Torfaen.
The 22-year-old animal, called Cheeky, received 12 puncture wounds to both hind legs, the abdomen and neck at Greenmeadow Community Farm, Cwmbran.
She received treatment from a vet, and is back at the farm where her condition is being monitored.
The donkey was injured sometime between 17:00 GMT on Friday, 28 November and 08:00 the following day.
Gwent Police said they do not yet know how the injuries were inflicted but believe the animal was wounded maliciously.
Anyone with information is asked to call Gwent Police on 101.