Terminally ill woman settles claim against health board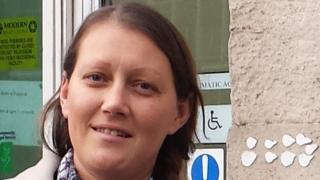 A terminally ill mother-of-two who said she would have been cured of cancer had she been diagnosed earlier, has settled her case for an undisclosed sum.
Katie Maytum, 35, of Maesteg, was suing Abertawe Bro Morgannwg University (ABMU) Health Board for £750,000.
They admitted a breach of duty.
Caroline Harrison QC, on behalf of the health board, told Cardiff High Court: "I would like to publicly apologise on behalf of the hospital to Miss Maytum for the delay in her treatment."
ABMU admits it failed to diagnose Miss Maytum, who is getting married on Sunday, in August 2010 when she was urgently referred by her GP to the Princess of Wales Hospital in Bridgend.
Her diagnosis was downgraded by a consultant and she was not seen until January 2011.
Vindicated
Miss Maytum's solicitor, Javid Asharaf, of Beers LLP, said: "Katie is delighted with the settlement that has been reached.
"She feels vindicated in bringing her claim that there was an unacceptable delay in giving her an appointment after her GP referred her to the Princess of Wales Hospital on 22nd July 2010.
"The defendant has admitted at trial that as a result of its negligence her treatment for breast cancer was delayed for five months.
"The defendant had argued that the delay made no difference to her prognosis but we regard this settlement as a recognition that the delay has caused Katie significant suffering and loss.
"No amount of money can compensate Katie for the fact that she now has metastatic cancer but at least she knows her children will be provided for."
Miss Harrison QC also told the court: "This is an extremely complex case on which both parties have relied on expert advice and clearly there's a marked difference of view in the arguments.
"I'm very pleased that the parties have been able to reach this agreement."
Katie Maytum case: the facts
The mother of two was 31 when she visited her GP in July 2010 with a lump in her breast
He suspected it was breast cancer and made an urgent referral for her to see a consultant at the hospital
Official guidelines specify she should have been seen within two weeks
But the consultant who received the referral, Vummiti Muralikrishnan, downgraded it to a routine case because she was younger than 35
He told the court that he used local guidelines which state that women younger than 35 without "alarming symptoms" would not be treated as urgent
Miss Maytum did not see a consultant until January 2011 - five months later
She was diagnosed with breast cancer and underwent surgery and chemotherapy
She was told in April 2014 that the cancer had spread and that she only had two years to live