Cardiff Embankment £500m riverside redevelopment unveiled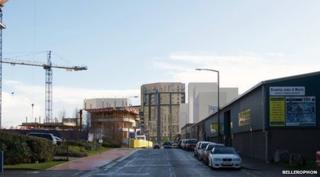 A £500m scheme to transform one of the last remaining derelict sites in central Cardiff has been unveiled.
The riverside development at Dumballs Road will include 2,150 homes, a new primary school, shops and restaurants.
Cardiff council leader Phil Bale has welcomed the project which he said would involve no public funding.
An earlier plan to part-fund the housing through a borrowing and leaseback arrangement was rejected by council officers as unaffordable.
Work on the site, in what was once one of the city's busiest industrial areas, is expected to begin in spring 2015.
'Dire need'
Richard Daley, chief executive of developers Bellerophon, said it was "an historic day" for Cardiff.
"Dumballs Road is the only area of land in the city centre that remains in dire need of regenerating and has been a blight on the landscape for far too long," he said.
"The £500m Cardiff Embankment regeneration programme, which is in the heart of the city's enterprise zone, will deliver major economic stimulus and create thousands of jobs, both in the construction phase and longer-term."
The housing side of the development will include a mix of property for sale at market rates and affordable homes in conjunction with Linc-Cymru Housing Association.
Its chief executive Rob Smith said the scheme would make "a major contribution" to Cardiff's ambition to see more homes built for people who wanted to live and work in the city.
In September, a plan for Cardiff council to finance the affordable housing part of the scheme through a borrowing and leaseback arrangement was rejected by officers as "unaffordable".
Council leader Phil Bale welcomed the updated plan, saying: "This is an ambitious, high quality scheme, and a significant achievement by both parties to get it off the ground without public sector funding.
"The £500m project will deliver much needed jobs and will create a number of new facilities that will leave a lasting legacy for the community."