Jamie Donaldson rescues cat from clubhouse roof in Dubai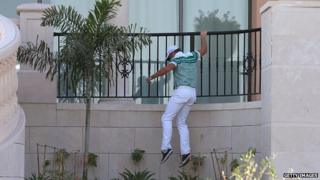 Welsh golfer and Ryder Cup winner Jamie Donaldson can now add 'cat rescuer' to his repertoire.
Donaldson, 39, had just shot a 67 to leave him joint 13th at the European Tour season finale in Dubai.
But he still had the energy to swing into action and fetch a cat from a flowerbed on the Jumeirah Golf Estates clubhouse on Saturday.
Donaldson, from Pontypridd, scored the winning point to win the Ryder Cup for Europe at Gleneagles in September.