First concert after Newbridge Memo restoration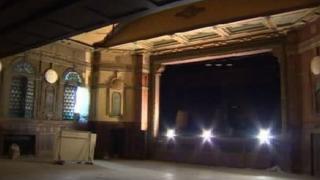 The first concert is to take place at the refurbished Newbridge Memorial Hall after a decade of fundraising.
The ballroom will re-open on Saturday night, while work is continuing on the 450-seat auditorium, which trustees hope will open in February.
The hall narrowly missed out on £3m of funding from the BBC programme Restoration in 2004 but it has since received lottery and other grant aid.
Miners built the hall in 1925 to mark those who died in World War One.
The auditorium closed in the early 1970s while the rest of the hall closed briefly in 2003 before local campaigners reopened it.
Since then, local people have been behind refurbishing and reopening the whole of the Memo, along with the adjoining Edwardian institute, at a cost of £5.6m.
It has had the high-profile support of both Prince Charles and Manic Street Preachers lead singer James Dean Bradfield, who officially marked the adjoining institute's reopening last year.
Bradfield worked as a barman at the Memo and said it was an "amazing" mix of young and old in the community when he was growing up.
The Manics also played there in the past, along with acts including Tom Jones, Steve Marriott and The Stranglers.
TIMELINE:
1908: The Celynen Collieries Institute was built to offer education and a library
1925: The adjoining Newbridge Memorial Hall was opened in memory of local deaths in World War One
1971: The auditorium of the "Memo", including a cinema, closed. The ballroom and the Institute remained open
2003: The Memo and Institute closed in January but a friends group is formed to reopen it in April and and refurbish the buildings
2004: Narrowly loses out in the £3m BBC Restoration programme final but fundraising continues
2009: Planning permission for the buildings to be restored to their former glories
2013: The Newbridge Institute is officially reopened after refurbishment
2014: The Memo's ballroom refurbishment is complete
2015: Its auditorium is due to reopen in February
Community rooms, offices and the new Newbridge library are already open in the institute as work continues on the hall.
The auditorium, which included a cinema, has been closed since 1971, but along with the ballroom is being returned to its former glory and will stage a reopening concert to mark its 90th anniversary.
Movies to Movies will be the first concert in the revamped ballroom, with an audience of 200 expected.
"People from all over the world have given us support over the last 10 years or so," said Howard Stone, chairman of trustees.