Cardiff council to consult with public over cuts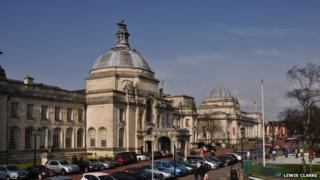 Wales' largest council will consult with the public on proposals to save more than £48m.
Cardiff council has to cut £32m from its budget in 2015/16.
The seven week public consultation will begin on Friday last until 12 January with the final decision being announced on 26 February.
Plugging the shortfall could see job losses, cuts to leisure and park services and an end to funding for the New Year Calennig celebration.
Health and social care faces being hit hardest with the council looking to trim £7.9m from this department.
On top of the cuts, the council is trying to make £2m in efficiency savings and raise an additional £13m.
This could be through council tax going up by 5%, bringing in £5.2m, and £5m savings made on employee costs.
Street lights across the city could also be dimmed - 24,000 over three years - in a bid to cut the council's electricity bill.
The authority said its total budget for 2015/16, based on current planning assumptions which could change, is £568m and 75% of that is Welsh government funded.
Possible savings
Library service restructure (£283,000 savings)
Youth service, including charging for Duke of Edinburgh (£1,250,000)
Catering - increasing school meals by 20p in 2015 then a further 10p in 2017 (£300,000)
Cutting 13 posts in parks and leisure (£329,000)
Permanently closing public toilets which are currently closed temporarily (£53,000)
Increased burial and cremation fees (£200,000)
Cuts and alterations to bus services (£236,000)
Smaller wheelie bins or less frequent collections (£267,000)