Insole Court mansion secures £4m for restoration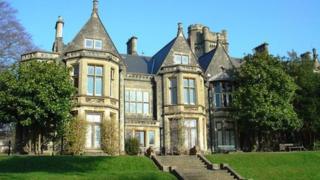 A Grade II listed Victorian mansion in Cardiff has secured £4m to help its restoration.
The Insole Court Trust, formed by members of the community, has been working to restore it to its former glory and expand its use in Llandaff.
Chairman Sir Norman Lloyd-Edwards said finishing work at the house would be a "landmark" moment.
He said: "This is the day which many dreamed of but doubted if it would materialise."
Insole Court is celebrating with a public open day in December, where people will get to tour the home and gardens.
The day will conclude with a formal ceremony to mark the beginning of the restoration process.
'Throughout the country'
Funding came from the Heritage Lottery Fund, the Big Lottery Fund and Cardiff council, among others.
Sir Norman said: "The finished project will be a landmark not only in Llandaff but in south Wales and throughout the country."
Peter Bradbury, the council's cabinet member for community development, says it is an example of how community interests can still be served "in the face of unprecedented budget cuts".
He added: "I'm delighted that this historic and much loved building will now receive the restoration works it deserves."
Insole Court will be open to the public on Thursday 4 December at 10:30 GMT and will close after the formal ceremony at 12:15 GMT.