Gwent police query reports of 400 wheelie bin thefts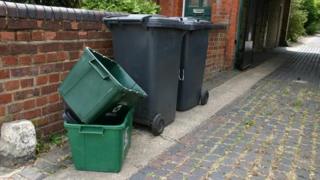 There may be more to a "crime spree" of bin thefts in Gwent, police have said.
More than 400 wheelie bins were reported as stolen in the county between July 2013 and September 2014.
However, police say hundreds of home owners said their bins were taken to avoid an £80 fee for a replacement from the council.
Chief Constable Jeff Farrar defended his force for "under-reporting" crimes like these.
He said: "There may not be a plague of wheelie bin thefts but there may well be an issue we need to look into.
"I'm sure the public would understand that we shouldn't immediately record those as crimes."
He spoke out after a report, by Her Majesty's Inspectorate of Constabulary, which found that "a fifth of all crimes" go unrecorded.