Matthew Williams: Argoed residents call for cannibal murder B&B to close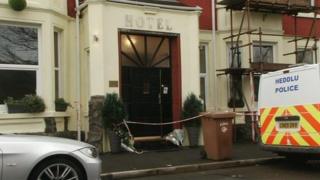 People living near the hostel where Matthew Williams killed 22-year-old Cerys Yemm in a cannibal attack have called for it to be closed.
At a meeting on Tuesday 75 residents met and chose a committee of eight people to campaign to shut down the Sirhowy Arms in Argoed, Caerphilly.
They will meet with councillors and police as well as local people.
Committee member Phylip Sollis said: "There's a lot of anger and a lot of strong feeling.
"One resident says her daughter hasn't slept since it happened".
Miss Yemm died after being attacked by Matthew Williams at the hostel.
Police used a Taser stun gun on the 34-year-old and he later died.