Sham marriage organiser jailed and bogus brides sentenced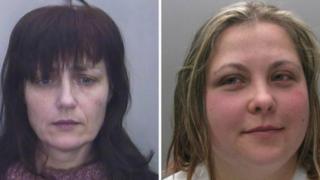 A woman who arranged sham marriages in Wales to help non-EU nationals obtain visas has been jailed for two years and nine months.
Audrone Siniciene, 49, of Peterborough, was convicted of arranging six fake weddings, including two in Cardiff.
Two bogus brides, Anna Scipanova, 30, and Asta Norvaisiene, 39, also admitted breaching immigration law.
They were given one year in prison and six-months suspended for one year, respectively, at Cardiff Crown Court.
Lithuania-born Siniciene claimed she was a guest at the weddings and had no idea the bride and grooms were fake.
But prosecutor Eugene Egan said she was "a professional fixer and arranger of marriages".
'Mockery'
Fake ceremonies took place at Cardiff Register Office, Peterborough, Ipswich and London.
Scipanova was put through a Sharia marriage ceremony with a Egyptian man she had never met.
Norvaisiene married an Algerian man whose "name she didn't know" after he paid £2,000, the court heard.
She met her would-be husband the night before the wedding.
Her dress, ring, shoes and flowers were all provided and after they got married, they never saw each other again.
Siniciene was caught after one of the couples left the ceremony in different cars.
Judge Robert Craven said: "It makes a mockery of the marriage ceremony. Using sham marriages to avoid immigration laws is an abuse of marriage - it devalues it."
Kristie Roberts from Home Office criminal investigations, said: "This gang thought they could profit from abusing the marriage system and the UK's immigration laws.
"Immigration crime is not victimless. It exploits some of society's most vulnerable people and the gangs involved often have links to serious organised crime."