Tributes paid to University Hospital of Wales nurse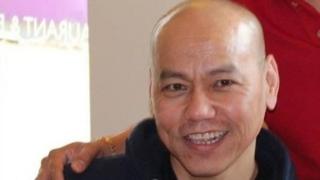 The family of a nurse who died after being hit by a lorry at the University Hospital of Wales in Cardiff has paid tribute to him.
South Wales Police are investigating the death of Anecito Roa Obsioma on Wednesday morning.
The 55-year-old, who was known as "Cito", had moved to Wales to "better himself" and support his family in the Philippines.
His niece Nelsie said he was a "kind, unselfish and generous person".
She added: "He was such a popular man and has obviously left an impression on everyone he met."
Ruth Walker, the director of nursing at University Hospital of Wales said: "On behalf of everyone at Cardiff and Vale UHB, we would like to express heartfelt sympathy to Cito's family at this time.
"He was greatly loved by staff and patients and had such a kind and compassionate way with those he cared for. He'll be greatly missed."