100 go to old soldier's funeral after Facebook plea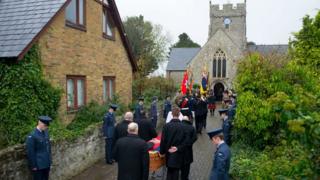 Around 100 people went to the funeral of an 85-year-old Welsh soldier after a plea was made on Facebook for mourners.
The Rev Rachel Simpson launched the social media appeal for mourners after getting the funeral details of Harold Morgan and seeing no next of kin.
Following the appeal, dozens of mourners went to St Tathan Church in St Athan to pay their last respects to the Welsh Guardsman on Thursday.
Some stood in the rain outside because the church was packed.
Mourners sung Men of Harlech and The Old Rugged Cross at the service and were told while he "didn't suffer fools gladly", he had a "wicked sense of humour".
The Rev Simpson began the funeral saying she was anticipating making it to an "empty church" for the service.
Earlier this week, worried it would only be attended by staff at the Barry care home where Mr Morgan lived and his solicitors, she took to the internet to see if she could trace family or friends.
And people responded to the appeal by showing up to the Vale of Glamorgan church to celebrate the life of Mr Morgan, who was born in Oxford.
Welsh Guardsman Sergeant David Scarf said his soldiers were humbled to attend the service and travelled straight from London on the day.
Solicitors also made contact with his brother in north Wales, who was unable to attend due to health problems, and a cousin in Newport, who was planning to go.
Former Welsh Guard, Terry Evans, 67, from Cardiff, decided to attend the service after reading about it on Facebook.
"We are a family regiment so once you're a member you are always a member," he said. "We like to give every member a good send off."
Daryl Treharne, 56, from Newport, said the turn-out proved "there is a lot of good in society".
Charlotte Jenkins, 29, of St Athan, who stood outside the church with her 10-month-old daughter to listen to the funeral, said she felt it was important to attend after reading about Mr Morgan's story.
"I work with the elderly so I see every day people without a family and on their own so I thought it was important for people in the community to give thanks for this man because he was in the forces.
"It really touched me seeing the Facebook campaign," she said.
An interment subsequently took place at Green Lane Burial Fields in Abermule, Powys.