Public raise £12K to continue guillemot study on Skomer Island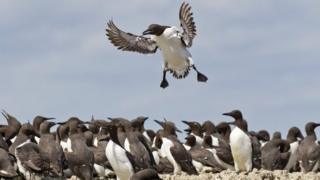 A long-term study of Skomer Island's 50,000 guillemots will continue thanks to £12,000 raised by the public.
Prof Tim Birkhead, of Sheffield University, has been monitoring guillemots on Skomer for 40 years.
The future of the research was put in doubt after Natural Resources Wales (NRW) cut their annual funding.
However, an online appeal to the public brought in the £12,000 needed to continue for another year - in just two weeks.
Prof Birkhead, a zoologist, wrote on his fundraising page: "I want to say an enormous thank you to everyone who has donated to my guillemot monitoring research on Skomer.
"£12,000 is enough to keep the project going for one more year until a more stable source of funding can be found."
Prof Birkhead began studying guillemots on Skomer, off the Pembrokeshire coast, in 1972, for his PhD.
Guillemot facts
They can be found on small areas of cliffs on the coasts and islands of Wales
Guillemots are best seen at the nesting colonies from March to the end of July
They have a diet of fish and crustaceans
There are 950,000 UK breeding pairs
SOURCE: RSPB
Every year since, he has been back to collect data from several breeding colonies on the island.
Skomer is popular with 250 visitors a day in the summer season when there is a chance to spot razorbills, guillemots and puffins.
Mike Evans, of NRW, has defended the cutbacks to the research funding.
He said: "At a time of government cutbacks we have to take some very tough decisions..
"What we've tried to do with our monitoring on Skomer is to make sure we're doing every element of the environment that we can rather than concentrating on a single species.
"We're continuing to monitor 12 species of birds which are very special to the island but we're also looking at the underwater environment."