Veteran's World War One watch stolen in Penarth burglary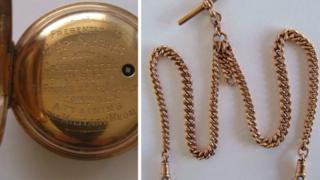 Thieves have stolen a gold pocket watch awarded to a soldier by his home town for bravery in World War One.
Burglars broke into Simon Elias's Penarth home while he was out watching Wales v Australia on 8 November and stole his great uncle's engraved watch.
Cpl Samuel Jones was given it by the town of Treherbert in 1917 after he was awarded the Military Medal for bravery.
His great-great niece, Beth Fisher, said: "Losing something that has massive family value is devastating."
The watch was handed down through the family following Mr Jones's death in 1940.
'Distressing'
The burglary happened three days before Armistice Day in the centenary year of the outbreak of World War One.
His family believe Mr Jones was serving in a Welsh regiment.
Miss Fisher said: "We desperately want to get it back. We want to keep his memory alive; it's horrible being burgled and you can replace some items but not this.
"We're very proud of his actions and what he did for this country, we hope someone has the heart to give it back."
Local policing inspector Chris Owen said: "To have such a possession stolen is very distressing for the victim - particularly on the weekend we remember to centenary of the outbreak of the First World War."
Anyone with information about the burglary is asked to call South Wales Police on 101.