Merthyr Tydfil council to 'sack and re-hire 1,000 staff'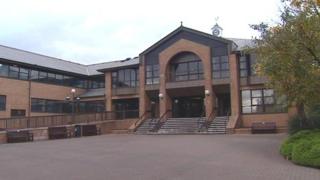 A council plans to sack and re-hire more than 1,000 staff on worse terms, two unions claim.
Unison and GMB have written to Merthyr Tydfil council leader Brendan Toomey after the notices were issued to council staff.
They say they are "disappointed" the council has begun a 45-day consultation on changes to terms and conditions without talking to them first.
Mr Toomey said the council needs to cut costs.
The council faces a £13m deficit between 2015 and 2018 and Mr Toomey said if negotiations with the unions failed, then formal notifications about redundancy talks would be issued immediately.
If an agreement cannot be reached on new terms and conditions, the council will start sacking and re-hiring staff from 19 January 2015.
The process is expected to be finished by 13 April.
Analysis: BBC Wales' political editor Nick Servini
You could call sacking staff and re-employing them on different terms and conditions the nuclear option for any local authority faced with a deficit.
Merthyr council leader Brendan Toomey has called it a "procedural mechanism" but that is far from how the unions see it.
It is interesting that the unions acknowledge the financial predicament the council is in and have proposed a quick merger with its much larger neighbour Rhondda Cynon Taf as a solution.
It has been said in the past that dire financial situations could make local government re-organisation more likely and here we have trade union leaders explicitly saying so.
In a joint statement, the unions said: "We find it disappointing that a Labour council should consider it acceptable to propose dismissal and re-engagement of staff on worse terms and conditions and demand the council finds an alternative to this measure."
The unions have asked for the matter to be referred to the joint secretaries of the National Joint Council for Wales.
A Welsh government spokeswoman said staffing decisions were up to local authorities, adding: "Funding reductions do not necessarily mean withdrawing services or making redundancies."
Jeff Jones, a local government consultant and former leader of Bridgend council, said: "For a Labour-controlled authority to go down this route shows how difficult it is.
"The problem for Merthyr is that it's so small and it has little room for manoeuvre."
Unions claim an early merger with neighbouring Rhondda Cynon Taf council would help relieve some of the council's financial problems and should be considered as a priority.
The council planned a similar move in October but backed down.