£100k business plan aim for Newport's medieval ship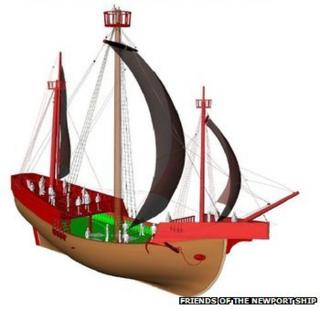 Campaigners trying to create a museum for Newport's medieval ship aim to raise £100,000 "seed funding" to get the project going.
Friends of the Newport Ship said the attraction would be financially viable if it drew only 55,000 visitors a year.
The 15th Century vessel was discovered during the construction of the Riverfront theatre 12 years ago.
The Welsh government has agreed to pay for a site to store it for three years while conservation work continues.
The 500-year-old ship is undergoing preservation at a warehouse in Maesglas and it is hoped the Friends of the Newport Ship, a charity which supports the conservation project, will eventually take over its management.
The group is currently trying to find trustees with the experience to take the project forward and raise the money needed for a new museum.
Its business plan said there was no prospect of the ship's current owner, Newport council, reassembling it when its preservation is complete in three years' time.
"It would probably be operationally and financially advantageous to incorporate the medieval ship into another museum, as Newport City Council envisaged at one stage." the plan says.
"However, our aims and objectives do not embrace this option because there is a strong desire by most parties to keep the ship in Newport if at all possible, and there no longer seems to be any prospect of a combined museum in Newport.
"Locating the medieval ship close to an another attraction so that each benefits from the other would still, though, be a good option if it can be achieved at reasonable cost."
The group claims the ship could attract up to 120,000 visitors a year, but would only need 55,000 a year to fund a low-maintenance building.
Dating back to 1460, the ship is the most complete surviving example of a vessel of its time and experts think it was used for trading along the Atlantic seaboard.
It is thought it was built in south-west France, the Basque country or Portugal, but how it came to rest in Newport remains a mystery.