Jenny James: First Welsh person to swim the channel dies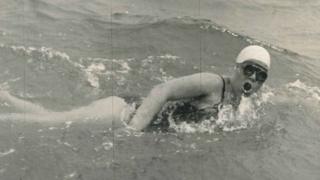 The first Welsh person to swim across the English Channel has died.
Jenny James, from Pontypridd, was 24 when she swam from Calais to Dover in August 1951 in 13 hours and 55 minutes.
She died at a care home in Porth, Rhondda Cynon Taf, at the age of 87 and the council has plans to honour her.
Her niece, Samantha Davies, who lives in her aunt's hometown, said: "When I've gone into hospital with her, people have said to me 'is that THE Jenny James? She taught me to swim'".
Ms James, who worked as a swimming coach and lifeguard, was given a huge reception by the people of Pontypridd when she returned after the 1951 swim.
Mrs Davies said "hundreds and hundreds" of people welcomed her back.
Her aunt was given the freedom of Pontypridd and free entrance for life to any swimming pool in Wales.
Sport ran in the family's blood, with Ms James's late brother Len 'Rocky' James captaining the Wales boxing team at what was then known as the British Empire and Commonwealth Games in Perth, Australia, in 1962.
"How proud can you be, when you know what my father did with boxing and my auntie Jenny for her swimming?" said Mrs Davies.
A council spokesman said it would honour Ms James's memory at the new Pontypridd lido when it opens in the summer of 2015.