Missing Caribbean yacht couple found, daughter confirms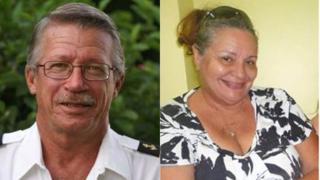 A couple who were reported missing on a yacht in the Caribbean on Saturday have been found.
Arthur Alleyne and Sharon Went-Alleyne, who is from Telford, Shropshire, were sailing between St Lucia and Barbados when all contact was lost.
An air and sea search was launched, but daughter Tao Alleyene, from Treherbert, Rhondda Cynon Taf, confirmed she has now spoken to her father.
"He said they had been drifting, but they are both fine," she said.
She had feared the 47ft (14m) yacht called Serenity may have lost power in a storm.
The Barbados coastguard confirmed they carried out a search for the couple.
Miss Alleyne described the moment her anxious wait for news was finally over after a traumatic weekend.
She said: "I got a really frantic phone call from a family friend who said she had just spoken to my Dad.
"So I called his number and he answered, which is the first time we have had any contact since Saturday.
"Unfortunately we lost signal, but he told me that both my mother and he were fine. That they were a bit dehydrated and hungry.
"They had been drifting, but I don't know if they managed to get in by themselves or somebody spotted them and managed to pull them in.
"But they're both fine and healthy. They said to make sure everybody know they're no longer lost.
"We're so so happy that they have been found.
"You always think the worse automatically, but my Dad has been a captain for coming up to 40 years. He knows the sea.
"We were always hoping that if anyone could keep them safe and get them through my Dad would."