Police hunt gang after sex assault in Gabalfa Park, Cardiff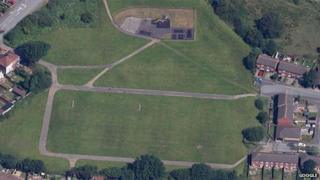 A gang of five to six youths is being hunted by police after a 17-year-old girl was sexually assaulted in a Cardiff park.
The victim was walking home after a night out when she was approached by the gang - of similar age - who ushered her into Gabalfa Park.
Police say the incident happened some time between 22:00 BST on Thursday and 02:30 BST on Friday last week.
One of the youths wore an all-grey tracksuit and two others were on bikes.
Detectives said the girl had been walking along Station Road with a friend before walking alone along Gabalfa Avenue and then College Road, where she was approached.
Anyone with information is asked to call 101 or Crimestoppers on 0800 555 111.
Det Insp Lloyd Williams, from South Wales Police, said: "At the moment we are not sure of the exact time this assault happened so even if you were in the vicinity during this time frame and saw nothing - that information could be important to our investigation.
"If anyone spotted a group of teenage boys hanging in or around the park that night or in the early hours of the morning, please get in contact as we would like to hear from you."