Torfaen council agrees on smaller wheelie bins to improve recycling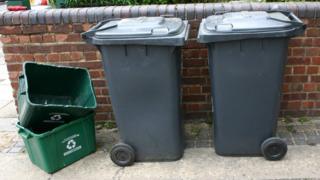 Smaller wheelie bins are to be introduced by Torfaen council to try to meet recycling targets.
Councillors voted to introduce smaller black wheelie bins for the collection of general waste and maintain a fortnightly collection schedule.
The council hopes the change will encourage people to recycle more waste.
Tuesday's vote follows a public consultation on waste collection and recycling. Residents will see 140 litre bins replacing a 240 litre version.
Torfaen council currently recycles 52% of its waste and needs to increase this to 58% in 2015/16 and 70% by 2025.
The council faces fines of around £100,000 for every 1% it falls below the Welsh government targets.
Councillor John Cunningham, executive member for neighbourhoods, said: "Reducing the amount of general waste that is collected at the kerbside is a proven way of increasing recycling rates.
"We need more people to use the kerbside recycling facilities if we are to meet Welsh government's targets."
The wheelie bin change by Torfaen council follows the introduction of the first three-weekly household bin collections in north Wales.
Gwynedd council will pick up the rubbish every 21 days from Monday.
Food waste and recyclable products will still be collected weekly.